Are You Searching for a Leading Listing & Sales Team to Assist You with Your Next Move?

Look no further! In addition to Wayne's 23 years Real Estate experience and being consistently ranked in the top 5% among Franklin County Realtors in production, you will have the benefit of a team working for you!! His wife, Jackie, also Broker of The Berkstresser Realty Group was licensed in 1992. She is often introduced to Wayne's buyers and sellers as well so that she is familiar with their circumstance and can easily fill in or show a potential buyer a listing to give them a 2 for 1 advantage! Wayne & Jackie's assistant, Christy (also Jackie's sister), has 18 years experience with The Berkstresser Realty Group and is happy to help in the office and give their clients the attention they deserve. She takes care of the behind the scenes details; for listings she uploads the properties to various websites and prepares brochures & advertising materials, along with keeping in touch with sellers on showings and feedback. For buyers she assists in the step by step process for getting through the approval process to closing... making your transaction as smooth as possible!! Also, Zach (our son) has been involved in our business for several years and recently joined the team as a full time Realtor working with buyers and sellers. He also has an associate's degree in Specialized Technology and maintains our computer and phone systems, keeping us up on the ever changing Real Estate technologies so we can adequately promote our listings!
Wayne & Jackie have been blessed in helping so many buyers and sellers each year make their move. They give personal attention to each and every client we have the chance to assist. It gives them a lot of satisfaction to see that SOLD sign go on a house...or give keys to a first time home buyer! It has also been extremely rewarding to meet and get to know the people that have chosen them as their consultants in one of the biggest financial investments and/or personal decisions in their life. Whether you work with Wayne or Jackie, you get the benefit of a team- 2 Realtors & a full time assistant working for you! When you are considering a Realtor, please note that we have the combined experience (over 75 years' worth), determination & commitment to move you!!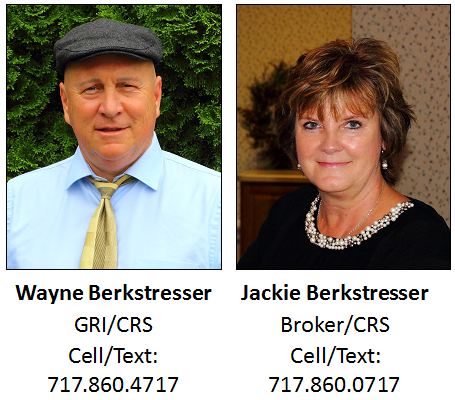 W&J Tidbits
*Wayne, GRI/CRS, one of 5 largest producers in Franklin Co.
*Jackie, GRI/CRS/Broker
* Both Wayne & Jackie are licensed in PA & MD
*Wayne & Jackie have sold over 160 million dollars of Real Estate since 2003.
*Both are members of Pen-Mar Regional Association of Realtors,
Metropolitan Regional Information Systems
*Reside in Chbg, One son- Zach
* W&J attend Mt Pleasant United Brethren Church
* Jackie is a member of the Chambersburg Garden Club
and enjoys working in her yard
* Both Wayne & Jackie are active members of The
Kiwanis Club of Chambersburg (evening club) and devote a lot of time and
passion to the clubs fundraisers including The Annual Blueberry
Sale in July & Rose Day in November
* Both enjoy bike riding, particularly along the C&O Canal
* Married 33 years
Christy McCulloh- Assistant
* A very organized team member of the Berkstresser Realty Group (20yrs)
* Designs newsletters, brochures, advertising & maintains databases
* With 18 years experience, she tracks all the settlement details (Behind the scenes work) for our buyers & sellers.
* Resides in Mercersburg with husband, Greg; daughters, Lainey & Paisley; son, Kelvyn
* Enjoys spending time with family & helping to accomplish success from listing to SALE!!!
Zach Berkstresser- Tech Support
* A Team member of the Berkstresser Group (10 years)
* Licensed Realtor with nearly 1 million in sales for 2018.
* With an associates degree in Specialized Technology, he maintains our computer & phone systems and keeps up on ever changing Real Estate technologies
* Son of Wayne & Jackie
* Wife, Jessica and he reside in Chambersburg Borough
* Huge Pittsburgh Steeler fan, enjoys computer games
hanging out with his wife and family & world-wide history.
* You may reach Zach by cell/text at 717-552-0167